The Indian Ocean is 73,500,000 square kilometres and my wedding ring is about 2cm across, making it about 0.0000000000003% the size of the body of water we are staying in. So imagine how hard it would be to find if I lost said ring in the afore-mentioned ocean.
(I know there are some flaws with such an argument about finding it amongst the whole Indian Ocean as it is unlikely that I lost the ring anywhere near the Seychelles or Sri Lanka, in fact the area it could have been in was about the size of half a football pitch, but it ruins the dramatic intro).
After 30mins of snorkeling (with my factor 50 suncream and a t-shirt on) I suddenly noticed that my left ring finger was naked. Two thoughts crossed my mind, should it tell Mrs G and would she believe me. Well the answers to these are I did and she didn't.
After a bit of convincing that this wasn't a case of crying wolf, and then about trying to turn her frown upside down as it's only a symbol and we are still married blah blah I decided that I can't just be throwing money away like that and I must find it.
Unlike Mrs G I have a keen sense of hearing and a good memory, and recalled that as I was starting to snorkel I'd heard a weird metallic clink. Initially I had passed this off as something falling from the mask or snorkel but after I had checked them I couldn't see what it was so passed it off as perhaps a stray coin in the pocket. As I was trying to assess where the ring could have been I remembered this and decided perhaps the noise was more important than I first assumed.
Swimming back to the area around our villa I started what I thought would be a search in vain. The sea was shallow but very rocky with sand. A dull grey ring was not going to stand out too much unless any of the multi coloured fish were wearing it. Yet within a few minutes I spotted a strange unnaturally round object lying amongst the coral.
The precious.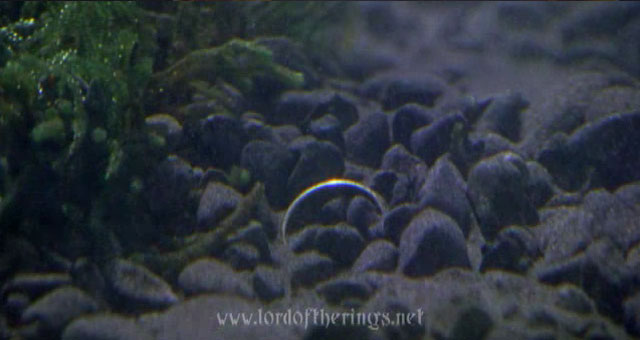 Being a geek there was only one way to retrieve it from its marine resting place, in the style of Lord of the Rings, grasping it in my fist and rising to the surface. As I approached Mrs G she asked to see it, but it was my own, my precious. The more she wanted to see it the angrier I got, she wants it for herself we thoughts but it's ours precious. There was no choice I had to strangle her and flee to the mountains…
I did claim initially that rather than being like Deagol, I was more like Isildur and that the bring had betrayed me and fell of just like at the Fords of Isen. The same claim could be made that it did the same to Gollum in the Misty Mountains. However I like to think that the ring was lost to me but found its way back. Which makes me Sauron.
In reality I showed her the ring and I got a hug and kiss, and all was right with the world.
Source: Water