When I was younger, getting my hair many years from now, I must have had heroes. Who those heroes were are lost to the ravages of time, I can barely remember what colour socks I put on this morning let alone recall which mid 1980's pop culture icon would have been someone I aspired to be.
I've had many heroes since then, especially since being able to read and learn about the world. I can't imagine as I sat on the mat at school I was professing my admiration at the work of Crick and Watson. If I had I should be able to remember being told that I was such a "precocious" child and to shut up.

It is not as though I was hugely into sport as a child, this would count out any of the footballers of the time such as (and I'm having to go to Wikipedia here, so may be some time) Kevin Keegan, Ray Wilkins or Paul Mariner. Nor was I into Rugby or Cricket so I wouldn't have had pictures of Paul Dodge or Allan Lamb adorning my bedroom walls.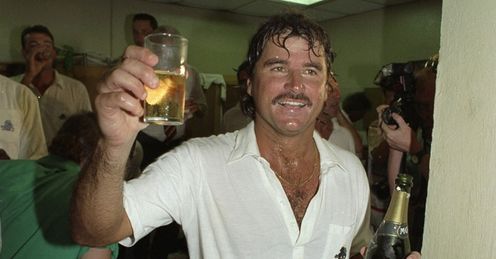 Star Wars was still unknown to me so Han, Luke and Artoo would have meant nothing to me. Dreaming of piloting the Millennium Falcon would have to wait and I would still be years away from being enticed by the Dark Side. There was also little chance of me pretending to be a Ghostbuster, Indiana Jones or the Terminator. There may have been a small recognition of being Atreyu as I do remember watching the Neverending Story numerous times, but nothing definite.
As a side note, have you seen the movies released in 1984? It may be the greatest year in the history of cinema (all the films mentioned above as well as Gremlins, Karate Kid, Beverly Hills Cop, Nightmare on Elm Street, Footloose, This is Spinal Tap, Dune and Splash).
I do dread to see who was in the charts, the 80's are not exactly known for their contribution to the pantheon of great music. So because of this fear I'm not going to look.
So who was my hero when I was a five-year old? After all this time I have no idea. All I know is that over the years I have come to admire many greats who changed the world. Now I would give anything to have been Ian Botham or Peter Venkman.
And for the record, my socks are purple. I just checked
In response to The Daily Post's writing prompt: "Honorific."

If you could pick one person to be commemorated on a day dedicated to him/her alone, who would you choose?